About Nick Shreiber & Associates, LLC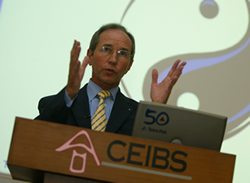 Argentine by birth and Russian-Scottish by descent, Shreiber has more than 40 years of senior leadership experience in both line management and management consulting. An international speaker on leadership topics, he is passionate about developing future generations of leaders.
During his active career, as CEO of Nick Shreiber & Associates, LLC, he advised global corporations on issues of strategy, organization and operations; in association with The Exco Group (previously Merryck & Co., Americas), he mentored senior executives and brought a practitioner's perspective to executive development.
Shreiber is a former Board member of The Campbell Soup Company, a $9B international food corporation, and of the The North Highland Company, a privately-held, mid-size management consulting firm. In addition to his corporate activities, Shreiber serves on the Board of Directors of the Atlanta Chamber Players, an acclaimed classical music ensemble.
Shreiber spent 18 years with the Tetra Pak Group, a $13B dollar global corporation and a world leader in packaging and processing solutions for food. He held international executive positions throughout his time with Tetra Pak, including responsibility for North and South America. He was group president and CEO from 2000 to 2005. Prior to joining Tetra Pak, he had been a partner with McKinsey & Co, for whom he worked in Europe and Latin America between 1976 and 1983.
A member of the NeuroLeadership Institute, his legacy is consistently one of performance excellence and rapid growth.